Checkup and Cleanings in Mckinney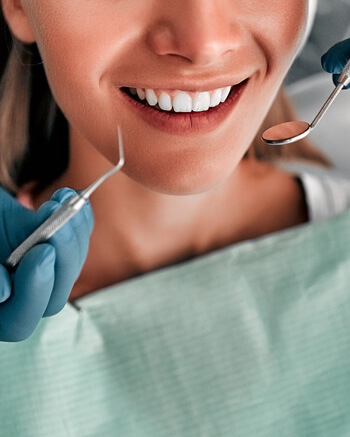 Keeping your smile healthy and beautiful is our number one priority. One of the most important ways you can help do good by your mouth is to visit us for twice-yearly checkup and cleans.
At Stonelodge Dental, we're proud to welcome patients of all ages and walks of life to schedule a general clean with us to ensure your oral health is in tip-top shape.
NEW PATIENTS »

What Happens During a Checkup and Cleaning?
During these important visits, we have the chance to:
Take x-rays to look for changes or problems
Thoroughly clean your teeth
Perform a fluoride treatment (if necessary)
Make recommendations for further custom treatments
Screen your mouth for problems before they turn serious, including infections, tooth decay, oral cancer and more
At our dental practice, we believe that every patient is unique, and we strive to ensure that each individual's needs are met. We take the time to speak with our patients in depth about their dental history and concerns, not just from an aesthetic standpoint, but also from a functional perspective. Our team is dedicated to understanding our patients' goals and concerns, so we can provide them with the best possible care. We take pride in our personalized approach to dentistry, and our commitment to creating a comfortable, relaxed environment for all of our patients. We believe that by building strong relationships with our patients, we can help them achieve optimal oral health and a beautiful, confident smile.
Checkup and cleans are designed to keep your smile beaming for years to come, and give our dentist a chance to provide their expertise when it comes to your oral health.
At Stonelodge Dental, we're happy to welcome nervous or anxious patients, and always take measures to ensure you're comfortable and relaxed in our care.
When you're with us, we see you as a part of our family, and hope you'll feel at home in the practice with us.
Frequently Asked Questions
How often should I visit the dentist?
It's generally recommended to visit the dentist twice a year for routine checkups and cleanings. However, your specific needs may vary depending on your oral health and any underlying conditions you may have.
How can I improve my oral hygiene?
Brushing twice a day and flossing daily are key components of good oral hygiene. You should also limit sugary and acidic foods and drinks, and consider using mouthwash to help kill bacteria in your mouth. Additionally, make sure to visit your dentist regularly for professional cleanings and checkups.
What should I do if I have a dental emergency?
If you experience a dental emergency, such as a knocked-out tooth or severe toothache, it's important to seek immediate dental care. Contact us as soon as possible to receive prompt treatment.
Do you accept dental insurance?
Yes, we do accept dental insurance. However, it's important to note that we may not accept all insurance plans. Please contact our office to determine if your insurance is accepted and to discuss your coverage options. We also offer a variety of payment options to make dental care more affordable and accessible for all of our patients.
Learn More Today
If you're in need of a checkup and clean, we'd love to welcome you into our care. Contact our team today to book your visit.
We look forward to seeing you soon.
CONTACT US »
---
Checkup and Cleanings in Mckinney, Melissa TX | (214) 613-1500