Dental Bridges in Mckinney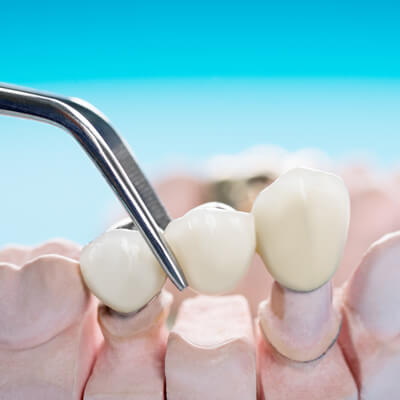 Dental bridges are a restoration option for instances where one or more teeth are missing. Bridges are superior to dentures because they are stronger, not removable and more aesthetically pleasing. At Stonelodge Dental, our team has extensive experience creating beautiful, reliable and durable dental crowns.
What Is a Dental Bridge?
A bridge can be used to replace one or more teeth. It is made up of the appropriate number of artificial teeth, with a crown on either end. The crowns are placed on the teeth adjacent to the gap to permanently anchor the bridge. Bridges can also be anchored by dental implants.
Modern Materials
The materials used for crowns and artificial teeth have improved dramatically over the last decade, allowing us to create bridges that are beautifully translucent as well as strong enough to withstand the pressure of chewing.
What to Expect
Whether you are already missing a tooth or require extractions, our team is able to provide all aspects of your restoration in-house. We'll begin with a thorough examination and explain everything we find. If extractions are required, we will schedule those and provide appropriate sedation. The anchoring teeth will be prepared for the crowns, which requires us to remove some tooth material.
NEW PATIENTS »
We will take impressions and send them to the dental lab to fabricate your bridge. When it's ready, we will ensure that you're happy with the fit and color before placing the crowns on the anchoring teeth. If you require multiple bridges, we do our best to streamline the process to minimize your number of visits to our office. It's important to take good care of the anchoring teeth by brushing and flossing well so that bacteria does not accumulate at the gumline below the crown. We also recommend regular check-ups and cleanings to maintain the
health of your teeth
and ensure the longevity of your bridge.
Book Today
If you are missing a tooth or need to have a tooth extracted and think a dental bridge might be the answer for you, contact us today to learn more or book your consultation.
---
Dental Bridges in Mckinney, Melissa TX | (214) 613-1500