Dental Crowns in Mckinney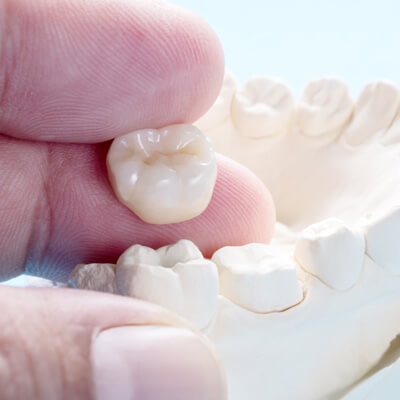 A crown is a porcelain cover that goes over the tooth to protect it and help maintain its structural integrity. It is the most efficient way of restoring a tooth and has the highest rate of success and longevity. Our Stonelodge Dental team has years of experience creating crowns that are both highly functional and aesthetically pleasing for our patients.
Who Needs Crowns?
A crown is used to protect a tooth that is cracked or weakened because of extensive fillings. It's also used to protect a tooth after a root canal. These tooth covers are also used to anchor bridges or on top of implants.
We may also recommend a cap to correct the size, shape, color or height of a tooth that doesn't match the appearance of your other teeth. We'll always discuss all of your options with you, so you can make an informed choice about how you'd like to proceed.
NEW PATIENTS »

What to Expect
We will take an impression of your tooth (or teeth), which is used to create the crown. Some tooth material will be removed, so that the crown fits in seamlessly with your other teeth. The restoration is then bonded in place.
The materials used for crowns have advanced tremendously over the years, and they are now much more durable than crowns from 20 years ago. Things like biting very hard foods, teeth grinding or bruxism can affect their longevity, but these restorations are the closest thing we have to "real" teeth. Modern materials are also beautifully translucent, giving the appearance of natural teeth.
If a crown is being used with an implant or to anchor a bridge, we will typically wait until the implant has fused fully with the bone before placing the permanent restoration. We may place a temporary crown in the meantime.
Taking Care of Crowns
It's important to brush and floss properly to ensure the health of the gums, neck of the tooth and underlying bone.
We also recommend getting regular dental check-ups and cleanings to maintain a healthier smile.
---
Dental Crowns in Mckinney, Melissa TX | (214) 613-1500