Meet Dr. Christina Clark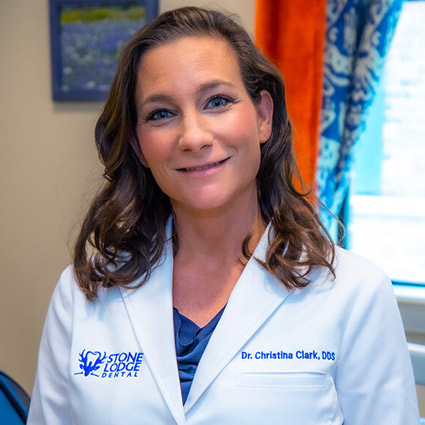 Dr. Christina Clark has published several articles related to conservative dentistry and recent advances that have come about. She is also proudly a member of the Texas Army National Guard. She is a Captain and was appointed to be the Officer in Charge of her Houston based unit this past year. She has received both the Adjunct General Individual Award and The Army Commendation Medal- For exceptional meritorious service, while serving as a dental officer.
One of the reasons why she wanted to be a dentist was to focus more on helping people achieve their dental goals – whether it be improving their smile so they have more confidence or just improving overall oral health – she will discuss all options and planning to get them there.
EXPLORE OUR SERVICES »

Advanced Technology
Her favorite advancement to in dentistry is the introduction of CAD/CAM. Having the technology and training to utilize this amazing improvement allows her to be more conservative in treatment options for her patients. She loves that in many cases she is able to do smaller restorations verses having to do crowns because she has this technology in the office.
Outside the Office
Dr. Christina Clark has been happily married for 10 years and has three wonderful children – 9, 6 and 4 years old. In her free time, she loves spending time with them. Reading, playing soccer, baking and having family dance parties in the living room are the most frequent activities in the house.
---
Dr. Christina Clark | (214) 613-1500