Invisalign® in Mckinney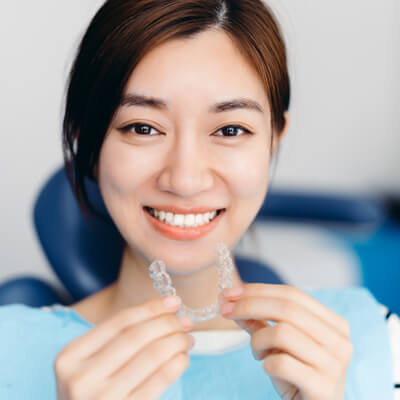 Creating the beautiful, even smile you've always wanted does not necessarily mean you'll have to wear metal braces for years. At Stonelodge Dental, we offer Invisalign clear aligners, which are an excellent option for teens and adults with mild to moderate crowding or alignment issues.
What Is Invisalign?
This orthodontic system uses thermal plastic trays that are custom engineered and created for your specific smile. Each set of trays is designed to make a certain amount of change in the alignment of your teeth. After a few weeks, you'll switch to the next set of trays to guide your teeth to the next stage of alignment.
As you wear the aligners, a physiological alteration of the roots and bones occurs gradually, allowing the teeth to move without the trauma or pain of conventional orthodontics.
Invisalign vs. Conventional Braces
We can predict the outcome of clear aligners with greater certainty, provided you wear the aligners the full 22 hours per day.
They are more comfortable than conventional braces, and it's much easier to maintain good oral hygiene with Invisalign. However, some complex alignment issues require conventional braces.
We'll explain all of your options to you at your consultation.
NEW PATIENTS »
What to Expect
We will conduct a thorough examination and take impressions of your teeth. These are used to create the trays which will be used to move your teeth into the desired alignment.
You will need to wear your aligners 22 hours every day for them to be effective. You remove them to eat and to brush your teeth and clean the aligners.
The active phase of treatment (the part where your teeth are moving) generally takes from six to eight months. After this, you enter the passive phase. During this period, you will wear retainers or night guards to hold the teeth in their new position and prevent them from relapsing to their old alignment. The average length of time to use retainers is about four years, although some patients wear retainers for life.
Schedule Today
If you'd like to straighten your smile discreetly, contact us today to book a consultation.
---
Invisalign® in Mckinney, Melissa TX | (214) 613-1500