Sedation Dentistry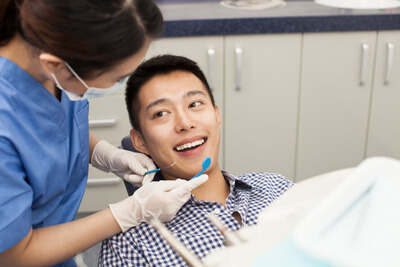 When you're with us, we want you to feel comfortable and calm. For some, that means undergoing safe and effective sedation dentistry for an experience that's easier than ever.
Why Choose Sedation Dentistry?
At our dental office, we understand that visiting the dentist can be a nerve-wracking experience for some patients. That's why we offer three levels of sedation dentistry to help ease anxiety and ensure a comfortable dental experience.
The first level of sedation we offer is nitrous oxide gas, also known as laughing gas. Nitrous oxide is a safe and effective form of sedation that is delivered through a mask worn over the nose. The gas has euphoric properties that can make patients feel happy and relaxed, and it has the ability to reduce or eliminate fear and anxiety. Nitrous oxide is a very superficial form of sedation and wears off quickly, making it an ideal option for patients who need to return to work or other activities after their appointment.
The second level of sedation we offer is oral conscious sedation, which is a cocktail of medications that are taken by mouth. These medications are absorbed through the stomach and digestive system and take about 20 to 30 minutes to take effect. Oral conscious sedation makes patients feel very relaxed and calm, but they are still conscious and able to respond to commands. Patients can choose to take a nap during the procedure or remain awake, and the sedation wears off within 20 to 30 minutes after the procedure is complete.
For patients who require a higher level of sedation, we offer the third level of sedation, which is administered by an anesthesiologist. This is the highest level of sedation, also known as general anesthesia, and it involves the patient being completely unconscious during the procedure. This level of sedation is typically reserved for patients who have a severe dental phobia or who require extensive dental work.
At our dental office, we accept most insurance plans and offer payment plans and financing options to make dental care affordable for our patients.
If you are interested in sedation dentistry or have any questions about our services, please contact us to schedule a consultation with one of our experienced dentists.
Discover Sedation Dentistry
If you're nervous about visiting the dentist, let us discuss sedation dentistry with you in person. Contact our practice today to learn how we can help and to schedule your consultation.
We look forward to meeting you!
---
Sedation Dentistry in Mckinney, Melissa TX | (214) 613-1500