Teeth Whitening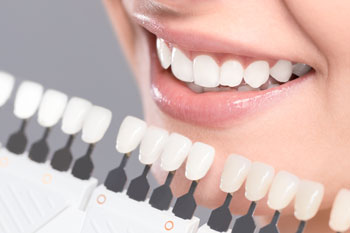 Did you know that teeth whitening is the most requested cosmetic dentistry procedure today? In just one short visit to our practice, you can get a stunning, brighter smile with no downtime.
It's that simple!
What to Expect
Before starting the whitening process, we ensure that your teeth are in good health and free of any issues that could be exacerbated by the whitening treatment. This includes checking for any cavities or other dental problems that could make the process uncomfortable or even harmful to your teeth.
We then take a shade assessment and record to get a baseline understanding of the current shade of your teeth, and to provide a reference point for the whitening progress. Once we have this information, we begin the whitening treatment process, which involves isolating the teeth and applying the Zoom whitening gel. Depending on your needs and endurance, we may conduct multiple sessions, each lasting 15 minutes, to achieve the desired results.
NEW PATIENTS »

Benefits of Zoom
One of the benefits of the Zoom whitening system is that it is very protective of the enamel on your teeth. Unlike some other whitening systems, Zoom does not demineralize the enamel, which can result in an opaque white appearance on the tooth surface. Instead, Zoom removes deep staining and restores the natural glow and shine to your teeth.
In addition to its effectiveness in external whitening, Zoom can also be used for internal whitening, which is useful for patients who have undergone root canals or have old restorations that have become discolored over time. Zoom can effectively remove deep stains and discoloration, restoring your teeth to their natural, beautiful appearance.
Frequently Asked Questions
When it comes to teeth brightening (bleaching), it's always best to begin in our practice. We can advise you on whether you are a good candidate for this process. Those people with yellowish teeth typically have better results than those with brownish or grayish hues. Also, whiteners have no effect on tooth-colored composite fillings or teeth that are bonded, so whitening will only make these teeth stand out from the ones that do whiten.
Some people experience tooth sensitivity after using bleaching agents. This is usually temporary and goes away after completion of the whitening process. Others notice irritation of their gums – especially when the bleaching tray is not custom made and the gums come in contact with the bleaching agent.
Side effects should always be brought to our attention so we can advise you on whether they are typical or not.
Learn More Today
Schedule an appointment with Stonelodge Dental and let us make your smile shine. We look forward to helping you achieve your goals in oral health.
CONTACT US »
---
Teeth Whitening in Mckinney, Melissa TX | (214) 613-1500